Your new Blackview A60 Pro smartphone will come with:

x 1 Boxed Phone
x 1 User Guide - Guarantee
x 1 Food sector
x 1 Micro USB Cable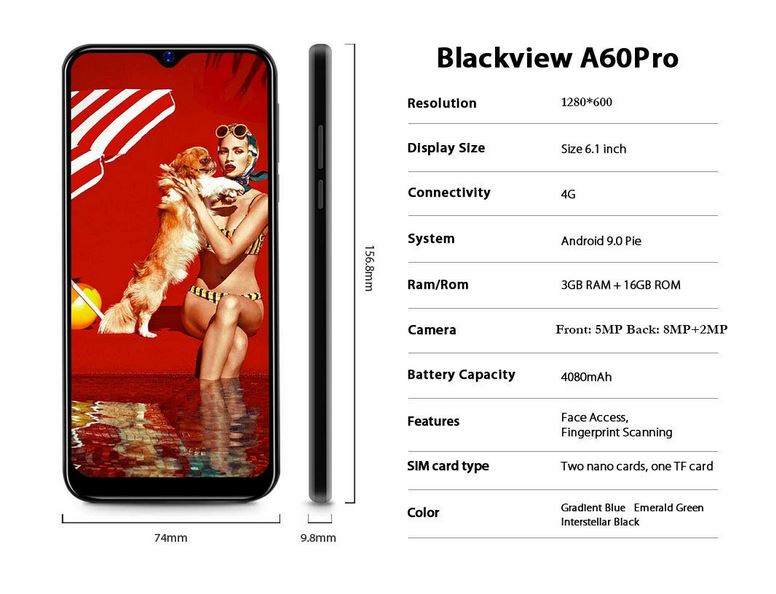 The Blackview A60 Pro is a smartphone with a huge 6.1-inch screen that covers 79% of the device's surface. Incorporating IPS LCD technology, it offers a resolution of 1280 x 600 pixels with 232 pixels per inch making it a medium density phone. Focus on this trendy flagship.


Characteristic of the A60 Pro Blackview :


This smartphone Blackview integrates under this huge screen with captivating colors, a Media Tek Helio A22 processor with 4 cores so Quad core clocked at a frequency of 2 GHz. The whole thing is compatible with 64-bit technology.


The A60 pro as a feature combines its processor with a 3GB flash memory which gives a pleasant fluidity when handling the phone. So no more complaints of slowness and latency of the phone following the use of several simultaneous applications. With this model of Blackview, nothing will stop you.


For the image and video frames, you'll be served with 8-5 MPx of rear photographic power. And at the front, 5 MPx of power for selfies of considerable sharpness and brilliance. As for space, don't panic. The Blackview A60 pro in terms of memory still has 16GB of convenient and useful storage space for your photos, videos and even documents.


Like most current devices, offers GPS, Wi-Fi and even Bluetooth 4.0. These are present to offer a non-failing wireless system to this phone really convenient. Moreover, although these latest applications are famous enough for their energy-intensive side, it will not be the case on this phone. Indeed, thanks to its robust battery of 4080 mAh made of Lithium polymer which is quite powerful you ensure a long use.


The Blackview A60 pro in France:


You can use the famous A60 Pro throughout the French territory. Notably, thanks to its compatibility with networks and bandwidth. It should be noted that at Discountmymobile,you will be able to enjoy unlocked phones, new and original marketed following fairly strict and precise rules.


Compatible with the 20,800mHz band, you can use it directly after purchase anywhere in the hexagon without any problems. Performing solid and stable, you can afford it at a lower cost by contacting the right sales platform.


Blackview and Discountmymobile:


It is a true love story that binds us with this brand. With us, you will find many Blackview at discount prices including the famous and impressive A60 pro. It is offered new and benefit from a 1-year build guarantee from the day your order is received. So no need to panic if there's a problem. In addition, Discountmymobile is recognized worldwide as the online sales platform specializing in screens and spare parts Blackview.


So enjoy without further ado this beautiful phone running Android 9 Pie and its latest features Google all more impressive and fantastic. With us, your satisfaction is our greatest pleasure, which is why we bend over and over to satisfy you. Need to buy or repair aBlackviewsphone? Take a ride on Discountmymobile.